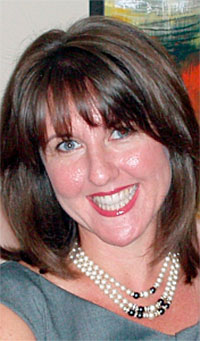 "Debra Gould has given me insight into the business and marketing side of home staging."
"The Staging Diva Home Staging Training Program clarified how to charge for my services without wasting me time doing free estimates or free home staging consultations!"
I'm looking forward to getting noticed for my talents as both an artist and a designer."
~ Saskia Vandemeulebroucke, Design Fusion, CA
This talented home stager and artist started her home staging business while also working full-time as a manager at IKEA. There is no way she has time to waste running around doing free home staging estimates, as other courses advise.
With the Staging Diva home staging business model, you'll learn how to use your time more efficiently and how you can maximize your profits.
That's because this program was created by business expert Debra Gould, who has an MBA and has been a successful home stager since 2002.
You'll learn what works in the real world, not unproven theories.
>Read about Saskia's first home staging job
Home Staging Hours Totally Flexible
Because you can book your home staging client appointments around whatever else you have going on in your life, it's a great business to start on the side of another job, or if you're a busy mom who needs flexibility.
Here are some comments from other Staging Diva Grads who started by building their home staging businesses on the side:
Staging Diva Teaches How To Work With Paying Clients – Jody Johnson (WI)
Staging Diva A Giant Short Cut to Working Toward My Dream – Cari Calhoun (MN)
Having My Own Home Staging Business Has Changed My Life Forever – Christina Rougerie (TX)
Taking Staging Diva Training Is Like Getting 10 Years of Experience – Melinda Christman (MI)
Home Staging Tripled Income of Busy Mom – Jodi Whalen (NJ)
Ready to Learn How to Get Started?
Why not take the first steps in learning how you can get started as a home stager.
Simply fill out the FREE REPORT offer on the right side of this page. We'll send you profiles of 10 home stagers who were just as nervous as you may be right now.
We know this report will inspire you with what's possible in your own life.
Plus, you'll find a special high value coupon hidden inside the report, along with a detailed description of all our courses and how you can get started as a home stager.

if (is_single() ){ ?>