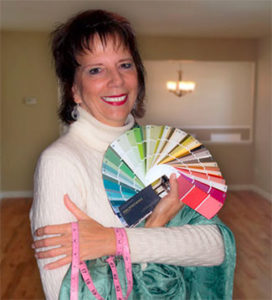 "Staging Diva has taught me the business part of home staging. From Debra Gould I've learned more about the home staging field and how to avoid pitfalls, how to work with paying clients and how to earn their trust."
"Staging Diva also taught me that a home staging consultation is just as important, perhaps more so than the actual staging work. After taking these home staging courses, I realize I don't have to do everything myself such as painting, cleaning, or home repair."
"I'm still working full time and plan to do home staging on the side while I build my business. After the Staging Diva courses, I presented my home staging portfolio and got great feedback from the top real estate agents in the Green Bay area."
~ Jody Johnson, Scenes that Sell LLC  (WI)
Getting Started in Home Staging
Some people are afraid of getting into home staging because they imagine they'll have to invest in their own home staging inventory.
In the Staging Diva Home Staging Business Training Program, Debra Gould teaches a business model that eliminates this problem.
She and her Staging Diva Graduates have run very successful home staging businesses staging thousands of homes over the years, without owning any inventory!
This approach makes home staging a much easier and inexpensive business to start.
You get to focus on being creative instead of taking on overhead and tons of paperwork.
This is only one of many pitfalls Jody was referring to in her review of what she learned.
> Learn more about theStaging Diva Home Staging Business Training Program and how it can get you started as a home stager today.
Related home staging articles you might enjoy:
Addicted to Decorating or Born to Be a Stager

Home Stagers Do Houses Speak to You?

How to Create Your Home Staging Portfolio This Weekend

Decorating and Home Staging Are Easy, Right?

Starting a Home Staging Business: Focus on What You Have

if (is_single() ){ ?>