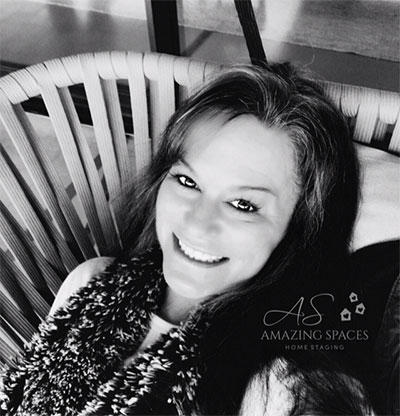 "My first home staging project was for a vacant home. I was a bit overwhelmed as I was hired only a few weeks after completing the Staging Diva Courses."
"The home had already been on the real estate market for 60 days prior to them hiring me to stage their home. It sold in only 10 days after after I completed the staging. I can't wait to do more projects!"
"I had a residential cleaning service business before becoming a home stager."
"The Staging Diva Training Program helped me prepare for the business side of this new venture and develop and organize all aspects of my new home staging business."
~Rachel Morris,  Amazing Spaces Home Staging (MD)
Home Staging Profits Come Early in a Home Staging Career
One the many awesome things about a home staging business is that you can get it going quickly without having to invest in any inventory of furniture or accessories, even when you stage a vacant home as Rachel Morris learned in the Staging Diva Home Staging Business Training Program.
Home stagers are also in a position to earn quite a bit for their expertise. That's because their home staging clients stand to earn a significant return on their investment.
While Rachel hasn't shared how much she made on this first home staging project, we know that with her staging, a home that had been sitting on the market for 2 months, sold in only 10 days.
When you consider the carrying costs of a non selling home sitting on the real estate market, not to mention the emotional toll it takes on the home seller, waiting only 10 days until a sale would be a huge benefit.
Also consider that after 2 months on the market, most real estate agents would suggest a significant drop in the asking price. This is money right out of the home seller's pocket, and significantly more costly than any investment in home staging.
To learn more about how you can start your own home staging business, check out Staging Diva. You'll learn everything you need to know to get started and grow your business in a profitable way without having to invest in any of your own inventory. Plus, you can complete all the home staging courses from the comfort of your own home and be ready to take on your own first home staging project within a few weeks.
Learn more about the Staging Diva Home Staging Business Training Program.