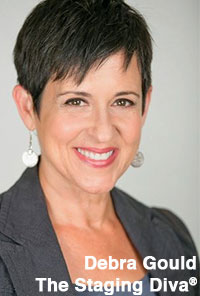 Staging Diva® is one of the most recognized and respected names in home staging courses— with Graduates across the U.S., Canada and more than 20 other countries.
Established in 2004, by home staging expert Debra Gould, it is the only staging training program that is uniquely focused on the business of home staging.
No matter how talented you are, if you're planning to turn your creativity into a real money-making business, it's critical that you understand the formula for turning your decorating ability into profits!
Staging Diva is the ONLY home staging training program taught by someone with an MBA in Marketing, BA in Communications and over 25 years of business experience, who has also personally built a successful staging business (not as a sideline to selling real estate).
Debra Gould has been running her own staging business, Six Elements, since 2002 and she shares her secrets so you can do it too. This ensures you learn what works in the real world and is based on what you need to know to be a success as a home stager.
Staging Diva® Graduate Home Stagers are taught to deal with clients with honesty and integrity, they also set the stage for potential buyers to fall in love with a property and say, "this is home!"

There are many products and services available to help new and established home stagers alike.

Staging Diva has been widely featured in newspapers, magazines, TV, radio and leading real estate  websites around the world.

if (is_single() ){ ?>