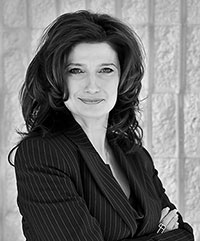 "Debra, congratulations on creating such an empowering global platform, with Staging Diva, to share your success and knowledge with so many like-minded entrepreneurs and home stagers."
"In a world where many operate from a mindset of scarcity and competitiveness – it is so refreshing to share, learn and grow with someone who thinks from a place of abundance."
"I'm so inspired and I am excited to start Debra!"
~ Gabrielle Schifano, Gabrielle Schifano Design & Co. (Alberta)
Staging Diva and Abundance
Debra Gould, also known as The Staging Diva has been an entrepreneur since 1989 and knows from first-hand experience that the right mindset is so critical to success.
When you spend your days looking over your shoulder and worrying about what everyone else is doing, you won't keep moving forward as fast as you could be.
Sure there is competition when you run your own business, but you also can't let that distract you too much. In most cases, there is enough business for everyone.
And in fact, a "rising tide raises all boats."
When Debra first started offering Staging Diva Home Staging Business Training, she was reluctant to share her business model with home stagers in the same city. Worried that it would create too much competition for her own home staging business Six Elements Inc.
She also worried about sharing too many home staging tips for free. Thinking that people would just do it themselves using her advice and not need to hire a home stager at all. She found the opposite is true and wrote about that here.
Now Debra Gould tries to approach life with the knowledge that when one person prospers, it doesn't mean someone else has to lose.
Home stagers can be stronger when they support each other.
That's why Debra has written more free articles on the topic of home staging than anyone else on the planet, and she continues to share her expertise with others.
> Learn more about Debra Gould
> Read her free articles in Home Staging Business Report
> Find out what makes Staging Diva unique