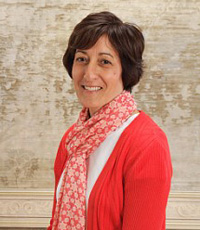 "One of my first home staging projects was for a couple who had a vacant condo that had been on the market for 8 months with no offers. Within 2 weeks of my staging they got a full price offer!"
"I could not have asked for more perfect, cooperative and appreciative home staging clients."
"The Staging Diva Training Program helped get my home staging business off to a great start. Debra Gould offers so much practical and valuable information."
"She motivated me to put my best foot forward and get started doing something I love."
"Kudos to Debra for sharing her home staging business knowledge so selflessly!"
~ Kate Perry, Accents and Amenities LLC (PA)
 > Read more about Kate Perry's home staging success story.
Home Staging is an Opportunity to Help People
It's no exaggeration to say that home staging services can have a profound and positive impact on a home stager's clients' lives.
Perhaps that's why so many former nurses are attracted to home staging. They want to use their creativity, but they still want to help people.
Staging Diva Graduates help clients avoid price reduction
When a home doesn't sell on the real estate market, the real estate agent will often recommend a significant price reduction.
Home staging can make such a difference for the sellers like this project by Staging Diva Grad Jodi Whalen which saved a $50,000 price cut.
Or this project by Staging Diva Grad Rob Reinhart. The real estate agent had totally given up on this listing after 2 years.
That is until Rob's home staging sparked a bidding war and the house sold for $70,000 over the asking price.
Staging Diva Graduates help clients facing a health crisis.
Like this home staging project by Kate Perry where the client was confined to a wheelchair with MS.
Imagine how relieved the couple was when the condo they couldn't sell for 8 months finally sold almost immediately after home staging.
Earn Money Doing What You Love
Staging Diva is different than any other home staging training program out there because it is focussed on teaching you how to earn a serious income doing what you love.

If you have decorating talent, the Staging Diva Home Staging Business Training Program will teach you how to make the most of it.

This complete step-by-step blueprint for starting your home staging business will get you up and running fast.

> Learn more about the Staging Diva Home Staging Business Training Program

>Learn more about Debra Gould, The Staging Diva®

if (is_single() ){ ?>