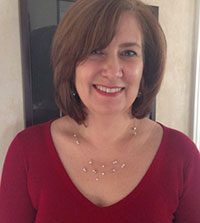 "Thanks to Debra Gould and her teachings in the Staging Diva Training Program, I have never given away my home staging services."
"From my first client I set my price/value and never looked back."
"The results home stagers provide homeowners in terms on higher selling price and shortened time on the market are invaluable and should not be undersold or under valued."
"I've worked with many a client who have had their homes on the market for months before hiring me as their home stager. They were only too happy to pay full price for my service as their homes were finally able to get sold at a price higher than expected, and just days after going back on the market."
~ Linda Schleihauf, The Detailed Home (Ontario)
Editors Note: Linda took the Staging Diva Home Staging Business Training Program more than 10 years ago.
With this study-from-home program, she was able to complete all the courses while she was on vacation from her full time job.
Then Linda took the weekend to put together a home staging portfolio using before and after photos from her own home.
She immediately joined the Staging Diva Directory of Home Stagers so she wouldn't have to figure out how to build her own website.
Within 30 days of ordering the Staging Diva Home Staging Business Training Program, Linda had her first paying client and earned enough to make back her entire investment in her training and her one year web listing in the Staging Diva Directory.
> Read how you can put together your own home staging portfolio in a weekend.
Too Many Home Stagers Work For Free
Sadly too many talented home stagers give up before making their home staging business a success. The most common cause of this is that they start off working for free, or they feel like they have to be cheaper than everyone else because they're "new."
That's what so important about what Linda shared about her experience.
Staging Diva Grads learn how to charge appropriately for their services from their very first project.
That way they don't get frustrated and burned out before making a great living!
Linda is right, "The results home stagers provide homeowners in terms on higher selling price and shortened time on the market are invaluable and should not be undersold or under valued."
If people tell you to work for free or discount your fees, that's a big clue that they are giving you really bad business advice.
Some of it will come from well-meaning people in your life. At other times, you'll hear this from real estate agents.
Even worse, you may get really bad home staging business advice from people offering home staging courses.
Be careful.
Anyone can teach a course, it doesn't mean they necessarily know what they're talking about. It also doesn't mean they've had any first-hand experience running a successful home staging business.
> Here are 15 questions to ask before investing in home staging training.