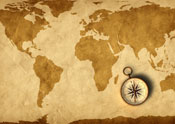 "I have passed an Interior Design Diploma, which taught me about the color wheel, etc. The Staging Diva course is continuing to teach me the business side, which is paramount to succeeding in creating a business using your creativity."
"This course gives me a new found confidence on so many levels. Debra, thank you for so much help, and your endeavoring interest and expertise in me personally. I feel like I have such great support through the Staging Diva Network, the Home Staging Business Report, and your Staging Diva Facebook page."
"I am very motivated, and if I ever feel un-motivated (which does happen), I have all your fantastic resources to help me feel like I AM DOING THE RIGHT THING!"
~ Janine Baird, UK Curb Appeal (United Kingdom)

As a Staging Diva Graduate, you can start a home staging business in any country!
Staging Diva is one of the most recognized and respected names in home staging training today, with over 8,000 Staging Diva students across the United States, Canada and more than 20 other countries, including Australia, France, Germany, Spain, Israel and South Africa.
Because solid business and marketing concepts work anywhere, the principles taught in the Staging Diva Home Staging Business Training Program are applicable throughout the world.
Regardless of where you live, with the Staging Diva Training Program, you can save time and money by learning from the comfort of your own home. You won't have the expense and inconvenience of travel, and you won't have to put the rest of your life on hold while you sit in a classroom for 3-5 days. You can study whenever you want—at night, during a weekend, or over several weeks or months—whatever works best for you.
When you're ready to start the home staging program, you'll simply open up your study notes and turn on an audio recording using your computer, CD player, iPad, iPod, or other MP3 player. And don't worry about technical problems—we're always happy to assist you!
The Staging Diva course recordings are energizing and inspiring. You'll actually feel like you're on a live conference call with Debra Gould and a group of home staging students.
What if you have questions about your home staging business?
There are several programs available if you'd like to ask questions as you go through the home staging training course:

> Learn more about the Staging Diva Training Program today!

if (is_single() ){ ?>