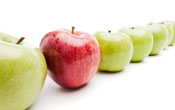 "I was very apprehensive about purchasing any home staging training program— I was afraid I would be wasting my money. The 3 things that convinced me to purchase the Staging Diva Training Program were:
1) Debra Gould's honesty in saying that there is no official certification for home staging.
2) Debra's appearances on top TV shows and interviews in well-known magazines.
3) The fact that Debra was not selling decorating training, but training on how to succeed in a home staging business.
"I am so glad I purchased the Staging Diva Home Staging Business Training Program from Debra — it has been everything I could have hoped for."
~Sharon Parker, Virginia
Staging Diva earns rave reviews from students
The Staging Diva Training Program has gained widespread approval from students across the globe. Here are just a few reasons:
Thorough & Complete – The training program is made up of 5 courses, each including 2 hours of audio recordings and accompanying study notes. You'll start off with topics like choosing a business name, registering your home staging business, and determining what services to offer.
You'll also learn what it takes to have your website built and business cards made. You'll then begin building your home staging portfolio, preparing for client consultations, and determining your marketing strategies.
The last course teaches you how to build alliances with other professionals, and how you can make money from their services too. The Staging Diva Training Program covers every topic you've thought of—and many that you haven't!
Motivating & Inspiring – While we're proud to say that the Staging Diva Training Program is extremely detailed and thorough, we know that our students would never complete the program if it were dry and boring! Fortunately, that's not the case with Staging Diva.
In a survey of our Graduates, we asked "Did you feel inspired after taking the Staging Diva Training Program?" and 100% of them answered YES. You can't get that result from a boring business program!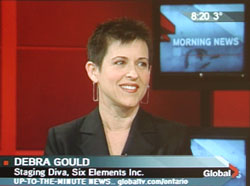 Taught by a Home Staging Expert – Staging Diva was established in 2004 and is one of the most respected names in the home staging training field. As a student in this program, you'll learn what you need to know from Debra Gould, an internationally recognized home staging expert.

Debra has an MBA in marketing, a BA in communications and has been an entrepreneur since 1989. She is the only person with these solid credentials teaching home staging in the world today!

Based on Real-World Experience – Debra created the Staging Diva Training Program based on what she learned while growing her own successful home staging business, Six Elements Home Staging.

She has been staging houses since 2002, so she can offer a realistic view of what it takes to succeed as a home stager.

In the courses, Debra shares stories and lessons from actual client projects, not abstract theories that may or may not work in the real world. Because the course is based on real-world experience, it will save you tons of trial and error figuring out everything on your own. You can take a huge shortcut to success, and then make back the cost of your training after only 1 or 2 clients!

These are just a few of the many reasons why students love the Staging Diva Training Program. Learn more about the program today!

if (is_single() ){ ?>