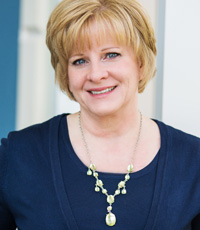 "I decided to become a home stager and launched my business, May I Suggest, when I reached a career cross-roads. I had previously worked a 35 year career in technical sales to financial institutions in the U.S. When faced with a corporate downsizing, I looked inward for what other talents I might have and could offer to others."
"Real estate, and all that goes with it, kept rising on my list of possibilities. I held an agent's license when my children were small and we lived in another state. I've also bought and sold several properties over the years. I found that with each sale, I had instinctively staged my property even before staging was a thing. Our homes sold fast and at near list prices."
"An HGTV and DIY network addict, I also found myself crying out to the TV, "move that there, move that there" and so on… I knew I wasn't interested in being at the 24-hour beck and call of buyers and sellers, so rejoining the working world as a real estate agent was crossed off my list. I knew a home staging career was it for me."
"I am grateful to have found, studied and graduated from the Staging Diva Home Staging Training Program. I researched other courses and Debra's program included all of the business considerations and requirements a new business venture needs to address. Thank you Debra for building a program that covers the complete administrative, technical and creative package. You have been a great trainer and mentor. Thank you also for being a leader in the industry, promoting the importance and benefits of Home Staging."

~ Karla Mall, May I Suggest, LLC (Georgia and South Carolina)
Home Staging Career Keeps You in Real Estate Without Hassles of Being an Agent
Internationally recognized home staging expert Debra Gould (aka The Staging Diva) launched her own home staging career following years in unrelated businesses. After an MBA, she worked in huge corporations like American Express, and later for advertising agencies. She always loved real estate, buying her first property on her own at the age of 29.
Though never a real estate agent (because of the significant draw back of having to be on call 24/7 with no guarantee of any income), she bought, decorated and flipped a number of homes. Realizing her talent for decorating houses to sell at a profit, she started Six Elements Home Staging in 2002.
This provided the "buzz" of real estate without the hassle of being a real estate agent. Instead, she could focus on what she loved best — decorating a house for people to fall in love with it.
If you're a real estate agent (or thinking of becoming one) and love decorating, you'll enjoy this article series:
> Addicted to Decorating or Born to Be a Home Stager?
> What If I Have a Real Estate License and I Prefer Home Staging?
> When You're a Home Stager With a Real Estate License
> When Home Stagers Get Hired First
Wondering If You Have Talent for a Home Staging Career?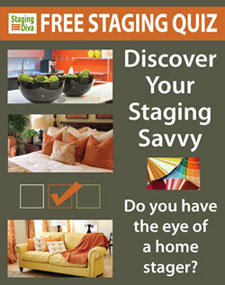 Not everyone can become a successful home stager. In addition to the right business model, which you learn in the Staging Diva Home Staging Training Program, you'll need natural decorating talent.

Find out if you have the eye of a home stager in this FREE QUIZ.

You'll see 10 "before" photos from home staging clients of Staging Diva Debra Gould and have your chance to make recommendations of what you'd change. Then compare your home staging ideas with Debra's to test your staging savvy!

> Click here to have the free home staging quiz sent to you by email right away.

if (is_single() ){ ?>