"I received 1000 Euros (USD $1,300) and great publicity for being among the Top 10 in a Business Plan Contest for my home staging business idea being particularly promising. Then I got a call from one of the two big newspapers in our area. They read about me being among the Top 10 and want to write an article about my home staging business! Debra, thank you for being my teacher and inspiration."
~ Gisela Mahlberg, Wandelwind Home Staging & Styling (Germany)
Staging Diva Grads in 23 Countries
Gisela is one of more than 8,000 Staging Diva students across the United States, Canada, Australia and 20 other countries. All share decorating talent and a commitment to making a living doing what they love. Most have not had any prior interior design training.
In the Staging Diva Home Staging Business Training Program, Debra Gould gives students a step-by-step plan to follow when growing their home staging business. This includes how to get media attention, which is so important because it's the fastest way to gain credibility and be seen by a wider audience than you could ever afford to advertise to.
Prior to becoming an entrepreneur in 1989, Debra Gould received an MBA in Marketing and worked in the corporate world and advertising agencies before starting her own marketing communications company.
In 2002, Gould started Six Elements Home Staging and was widely featured in the media, including: CityTV, GlobalTV, CBC, CBS Radio, CNNMoney, Wall Street Journal, Woman's Day, Reader's Digest, MoneySense, Entrepreneur, House and Home, Home & Decor, Style at Home, Centre of the City, USAA Magazine, FabJob Guide to Become a Home Stager, Home Style, National Post Homes, This Old House, Home Business Magazine, Globe & Mail and others.
Debra Gould was earning up to $10,000 a month staging homes when she created the Staging Diva Training Program in late 2004 to teach others how to earn a living from their own decorating talents.
Wondering If You Have Talent for a Home Staging Career?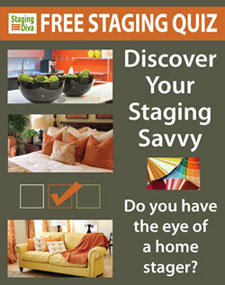 Not everyone can become a successful home stager. In addition to the right business model, which you learn in the Staging Diva Home Staging Training Program, you'll need natural decorating talent.

Find out if you have the eye of a home stager in this FREE QUIZ.

You'll see 10 "before" photos from home staging clients of Staging Diva Debra Gould and have your chance to make recommendations of what you'd change. Then compare your home staging ideas with Debra's to test your staging savvy!

> Click here to have the free home staging quiz sent to you by email right away.

if (is_single() ){ ?>