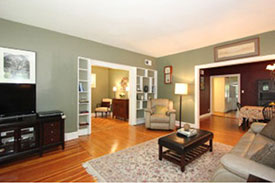 "My first home staging project resulted in multiple offers within 24 hours and a sales price of $16,000 over the asking price. The homeowners, realtor, and their friends were so impressed with how I styled the home to sell that I received several referrals from that one job. The homeowners have already asked me to help them design their new home."
"The Staging Diva Program has not only provided me with a huge confidence boost, but also all of the tools and insight to help me build a successful business. It would have taken me much longer to get my business to this point without Debra's training and wisdom. Thank you!"
~ Melissa Mitchell, ReStyled Spaces (Illinois)

Photo Credit: Melissa Mitchell

More Proof That Home Staging Works
Each of these articles shares a real life example of a staging project done by a Staging Diva Graduate and the results they achieved for their clients. Click on any title below to get the full story!
Home Staging Sells House For Full Price Despite Skeptical Husband
Staging Diva Grad Gets $15,000 Over Asking for Own Home
Home Staging Ends 5 Year Real Estate Endurance Test
Home Staging Cure for Awkward Condo
Australia Home Stager Transforms a Vacant House
> Read more proof home staging works!
Does Home Staging Work in Any Market?
"A house is a product that has to be packaged and marketed to the right target audience at the right price," says home staging expert Debra Gould in her book, Staging Diva® Ultimate Design Guide: Home Staging Tips, Tricks and Floor Plans.

In a slow or "buyer's" real estate market, any house is just one of many for sale in a neighborhood. Real estate agents may say the only way to sell is to drop the price, but this ignores the positive sales impact of improving "the product."

In a "hot" real estate market where prices are on the rise, home staging is an effective strategy for attracting multiple offers that are well above the asking price.

Home staging will help any home stand out from the competition and sell more quickly and at a higher price than without staging.

if (is_single() ){ ?>